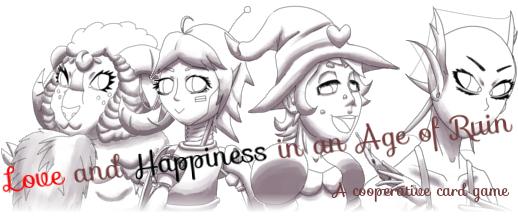 Love and Happiness in an Age of Ruin
The old, crumbling building lies before you, hidden in the fog. Large, imposing, and secretive, it's the closest thing to a shelter that you've found in a long time. An old flame of hope lights within you, kindling a dream of survival and peace... and a flash of desire, a need to not merely survive but thrive, fills you as you notice that you are not alone.
Love and Happiness in an Age of Ruin is a cooperative card game for two to four players. It's the goal of every player to help everyone else fulfil their greatest desires and live happily together. The game is simple and requires very little setup, and can be played in an hour or so (shorter, the faster you get used to the rules!)
This game was created for Ruin Jam 2014. It was made in two weeks and is rough around the edges. We would love to hear any feedback from you! You can contact one of the game's creators @peppertsuki on Twitter!
Find us at peppertsuki.tumblr.com and softchassis.tumblr.com.
Install instructions
Simply grab the PDF and open it in the reader of your choice, or print it out if you prefer a physical copy!
Download
Download
loveandhappinessinstructions.pdf
862 kB